Content provided by partner.
##offgridpower
##hybridpower
##renewablepowercriticalapplications
##remotepower
##offgridsecurity
##offgridcommunications
##offgridpublicsafety
##offgridenvironmentalmonitoring
##offgridtintelligenttrafficsystems
##offgridups
Off Grid Power for Critical Applications
Airsynergy is an Irish company specializing in the design and manufacture of off grid power products for critical applications.
The powerful combination of solar and wind energy working seamlessly together is why Airsynergy leads the class in off grid power solutions. Our award winning Independent Smart Pole (ISP) family of products are off grid hybrid power generation and storage solutions. With installations in North America, Ireland, UK and Germany and with some of the world's leading blue-chip companies using our products, our technology is well proven.
Designed to exacting specifications, Airsynergy's ISP's are robust, certified (UL and CE) off grid power platforms, which can be used for powering low energy devices for critical applications, such as security, communications, traffic management, environmental monitoring, public safety & lighting.
Available in various performance classes (40W/80W/120W), the products use leading edge technology combined in an integrated system which offers 24/7 power continuously. MOBOTIX with its class leading power efficient camera technology coupled with Airsynergy's Independent Smart Pole offers an effective means for providing security and surveillance to locations where it may otherwise not be possible – packaged together as a 100% green energy offering.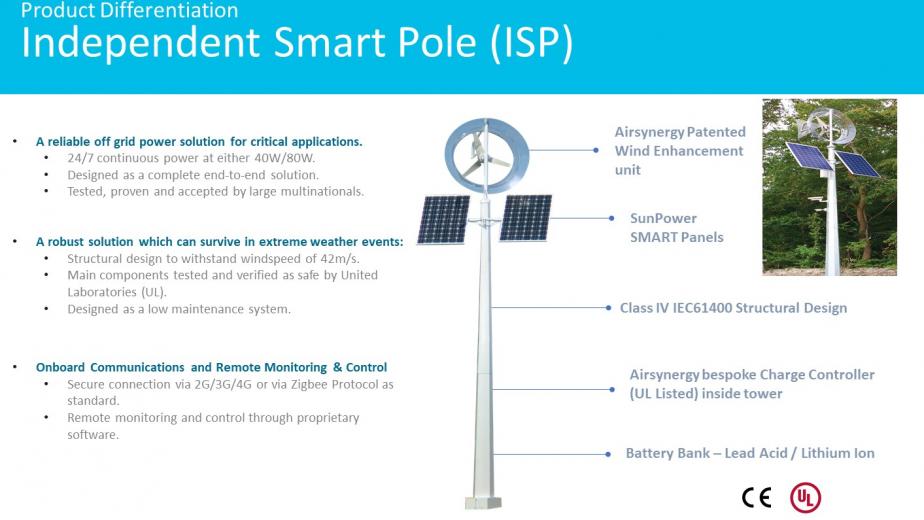 Key Features & Benefits
Reliable off grid power solution for critical applications
Robust solution which can survive in extreme weather events
Onboard Communications (3g/4g/5g & Zigbee)
Remote Monitoring & Control
CE Certified & Designed to UL
Compliant with IEC/NEC standards
Flexible connection (DC: 12/24/36/48/96, AC: 110/230, PoE/PoE+/PoE++/High Power PoE
Ease of maintenance - raising/lowering <1hour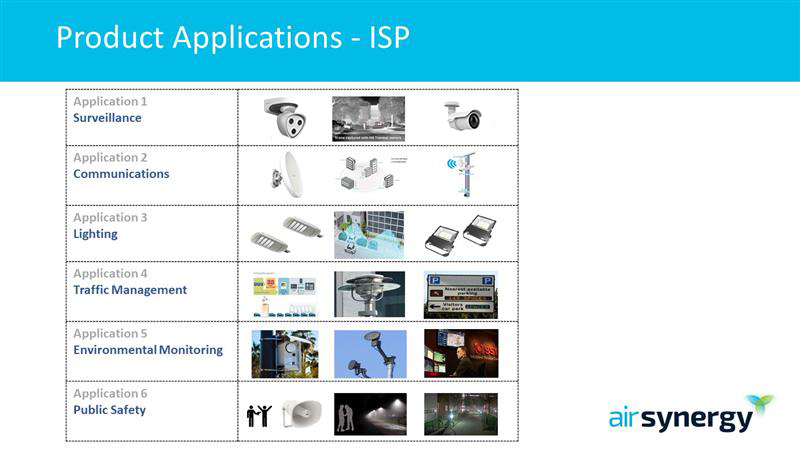 Contact us for further information on Airsynergy