Content provided by partner.
#smartlamp
#lightsystem
#streetlights
#dronedefencesystem
#dronedetectionsystem
#MOBOTIXthermalcameras
#elumo5g
#intelligentlamps
#smartcities
#MOBOTIXstreetlamp
ELUMO 5G - Intelligent Lamp with Integrated MOBOTIX technology
The intelligent ELUMO 5G lamp combines modern lighting technology with highly complex security systems. Built with 3 modules (supply technology, high-tech sensors and lighting technology), the ELUMO 5G offers solutions for all requirements. The lamp can be integrated into existing infrastructures without any problems. Existing street lamps can be exchanged and converted 1:1. Different interfaces, e.g. Wifi (WLAN), 5G mobile radio, LAN and much more will continue to offer all options for the successful use of the ELUMO 5G.
In addition to the standard functions such as light and sound, the lamp is also supplied with video surveillance systems from the MOBOTIX AG - Made in Germany! In addition to sensor modules with different image angles with day / night function, thermal modules can also be used for temperature detection. Also sensor modules for a large number of measured values ​​for the areas of humidity, monoxide, Co2 emissions, ethanol, dioxides and much more can be retrofitted.
Each ELUMO 5G can be equipped with an intelligent charging station for e-mobiles - billing by mobile phone and monitored by a MOBOTIX video camera. License Plate Recognition systems are also offered when it comes to entry control or vehicle identification isue. Excellent results with a hit rate of up to 99% are achieved here.
For highly sensitive security areas with the highest demands on perimeter protection, e.g. We also offer a drone defense system at airports, factory sites or test tracks for the automotive industry. This is integrated in the middle module of the ELUMO 5G and its performance can be scaled to different applications.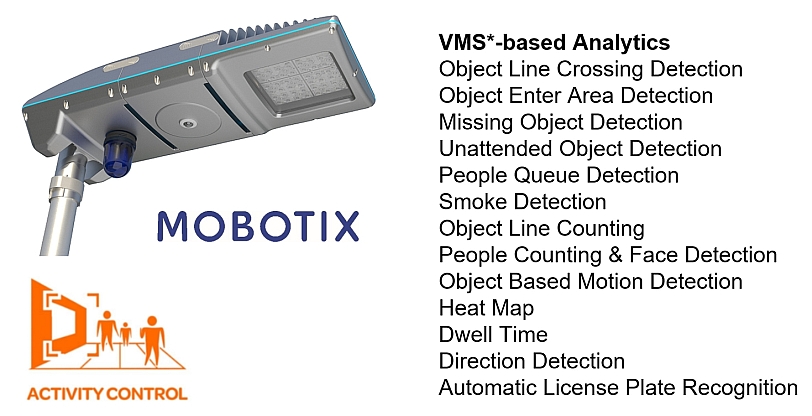 Key Features & Benefits
Innovative: The street lamps become radio towers and form a 5G information superhighway.
Scalable: The Federal Network Agency supports the concept for cities and municipalities.
Low radiation: Communication from lamp to lamp is carried out by infrared or glass fiber.
Modular: The radio tower, cameras, sensors, emergency calls and charging stations integrated in the street lamp.
Multifunctional: Many functions are possible - camera, music, weather, marketing, lighting & charging.
Future-proof: scalable - new modules can be integrated in the middle section.
Intelligent: The lamp has the intelligence of a mobile phone (video analytics, ...).
Defense against drones: The system enables detection and defense against drones.