Content provided by partner.
#infortrend
#surveillance
#cctv
#storage
#dataprotection
#SAN
#RAID
#EonServ
#serverstorage
#highcapacity
Over 25 Years of Enterprise Data Storage Expertise
Infortrend Technology is a pure-play Enterprise Data Storage solution provider with 25 years of history and a public listed company (TWSE: 2495) in Taiwan since 2002. In order to deliver the highest quality products and services, Infortrend integrated product development, design, manufacturing, technical consulting / support to deliver a comprehensive solution to our customers and successfully deployed more than 700,000 redundant rack-mounted systems worldwide.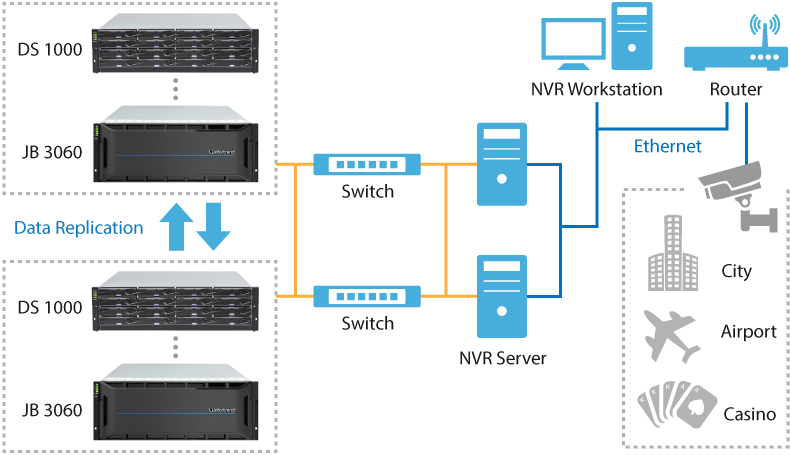 Key Features & Benefits
Scalability - Surveillance is a capacity-hungry application. Infortrend storages support PB level capacity
Robust Data Protection
Small Scale Deployment - 4+ IP Cameras
Large Scale Deployment - 570+ IP Cameras
High Availability - Surveillance is a 7/24 non-stoppable operation. Infortrend provides a no single point of failure solution.
Low Cost - Surveillance requires high cost-efficiency. Infortrend supports high capacity SAS/SATA HDD and high-density 4U 60-bay expansion enclosures
App Store on Docker
Verified with Milestone VMS. Tested with Digifort and Genetec
MOBOTIX, Milestone and Infortrend - Excellence at every stage of your surveillance solution
Video surveillance solutions have never been more critical to businesses and organisations around the world than they are today. A reliable, high-performance video surveillance solution can help a government fight crime, or help an organisation reduce losses. Milestone Systems, MOBOTIX and Infortrend are experts in their own fields. By combining our services, we have created a complete, high performance and reliable surveillance solution.
MOBOTIX, Digifort and Infortrend - Bringing Expertise to Every Part of Your Surveillance Solution
Digifort, MOBOTIX and Infortrend are experts in their own fields. Now, we provide you with a surveillance solution integrated with these 3 vendors' products. The DMI solution not only provides high performance but also is cost-effective and reliable. It is certified to be resilient, affordable, and scalable for systems of any size.
Contact us for further information on Infortrend