Content provided by partner.
#autonomoussecuritydrone
#surveillancedrone
#droneautonomedesécurité
#droneaveccaméraMOBOTIX
#dronewithMOBOTIXthermalcamera
AUTONOMOUS SECURITY DRONE
Our solution is an autonomous security drone with a replacement and charging battery station. It is made in Europe and approved by the French aviation authority. Our drone is able to take off from its station to do two missions. The first is a reconnaissance mission when an alarm is triggered. The software recovers information from the alarm and the drone either does an automatic reconnaissance mission or the guard launches a mission himself.
Secondly, if the site does not have any system to detect an intruder, our drone is able to take off automatically to do a surveillance round and detect an intruder, stay overhead, and send a message to the guard at his post.
To do these missions, the drone is composed of a MOBOTIX S16 with a thermal lens and an optical, color lens.
The thermal lens is able to detect an intruder at 200m in all weather conditions. We are working with a university to develop an algorithm able to detect and track a human.
The algorithm allows the pan tilt to center the intruder in the image and reorient the drone if necessary. It can also differentiate between a human figure or other animal or object, even at night!
The drone also has backup equipment; motors, flight controler, GPS and battery.
This new technology is deployed to adapt and assist human intervention. It is easier for the guard to pilot the drone thanks to the Human Machine Interface. He does not need lengthy pilot training.
This will add value to the profession by introducing innovative technology.
After its mission, the drone returns automatically to the ground station and lands.
Now a device automatically charges the empty battery of the drone and puts in a new, full battery in less than one minute. The drone is ready for a new mission.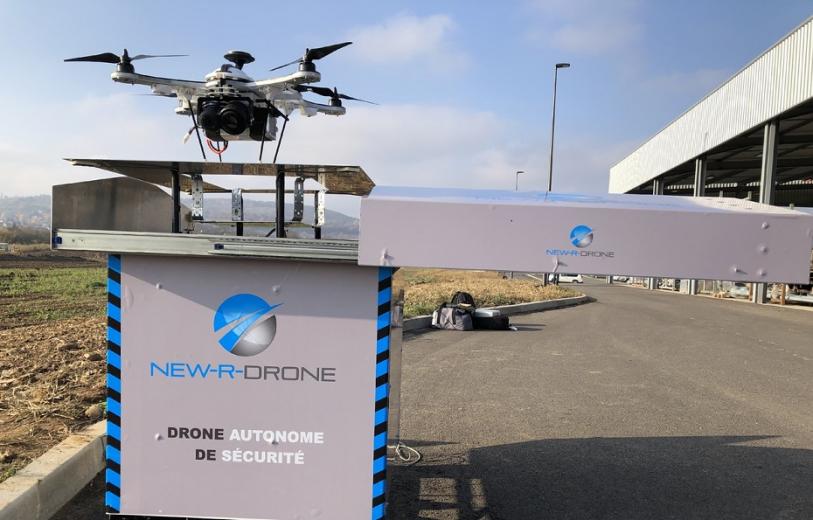 Key Features & Benefits
redundancy of equipment
replacement and charging battery automatically
obstacle detection