The new, groundbreaking MOBOTIX EverClear coating uses a special nano-technology that transforms water droplets into an ultra-thin water film immediately upon impact. This ensures the highest image quality in rain and difficult external conditions. 
All MOBOTIX MOVE 2/4/5/8 MP Bullet and Dome cameras with integrated video analysis, as well as the LowLight SpeedDome camera, are now equipped with this technology.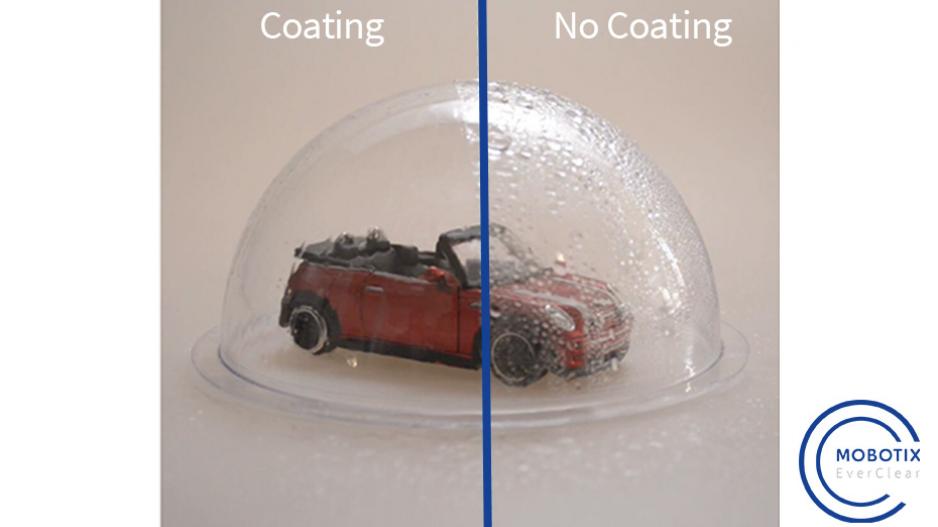 Best visibility in the rain
No formation of water droplets
Increased scratch resistance
Self-cleaning effect (dust/dirt)
Translucence increased by 5%
Fewer reflections in low light
Easy to clean
Hard Coating
Hard coating involves applying a nano-film with a high level of hardness, reliable optical performance and stable chemical performance to the inner and outer surfaces of dome covers. After hard coating, the hardness, permeability and scratch resistance are greatly improved.
Scratch Resistance
A coat of hard nano-film can significantly improve the scratch resistance of the cover. Due to its high surface strength, the hardened layer protects against surface scratches during routine cleaning.
Translucence Increased by 5%
The nanometer molecules of the hard coating, which adsorb in the microscopic indentations on the inner and outer surface of the dome, can reduce the slow reflection produced by the indentations and increase the translucence of the dome.
Less Reflection in Low Light
The hard-coating technology can increase the translucence of the dome covers, reduce reflection and effectively reduce static in low-light environments, resulting in a clearer view.  
Easy to clean
The is simple to implement and easy to clean, making it easier to mount the dome.
Fingerprints, oil stains and dust on the surface of hard-coated dome covers can simply be wiped away using a cotton cloth and cleaning agent.