Comprehensive and free of charge
MOBOTIX HUB L1 video management software is feature rich and available free of charge. L1 supports up to eight devices and is ideal for smaller businesses that want to set up simple video surveillance. 
Straightforward design, with everything is connected to the same network and all server components and MOBOTIX HUB clients running on the same server/PC.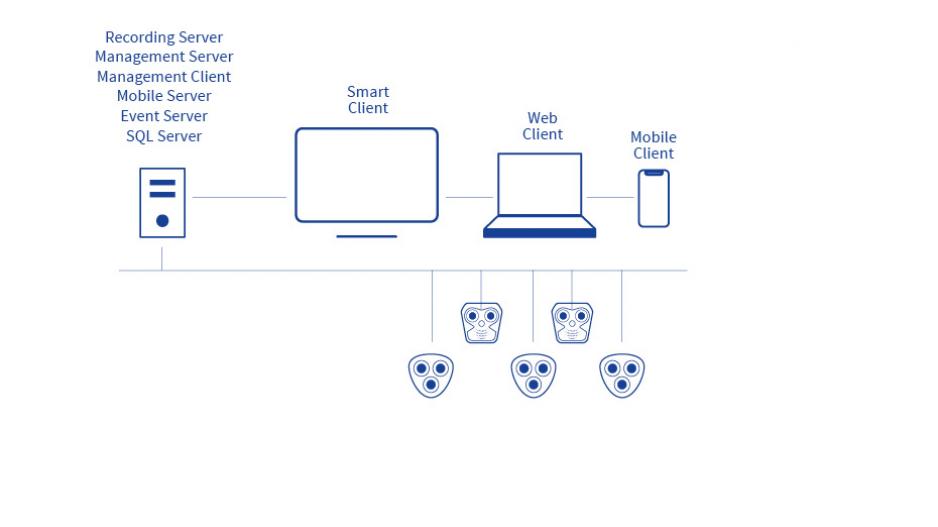 RELIABLE
Round-the-clock security for your well-being: Keep track of everything from anywhere SCALABLE 
With MOBOTIX HUB L1, you can start with a system that grows with you as required.
EASY TO USE 
Focus on the essentials, not your video system. SECURE
Cybersecurity included: Be secure against internal and external security threats
Key Functions of the Application — At a Glance
MOBOTIX HUB clients
Access your system anytime, anywhere with the three MOBOTIX HUB clients.
Storage
With unlimited storage time, your video recordings are always available when you need them.
Free of charge and without restrictions
Use the MOBOTIX HUB L1 version with no obligation, free of charge, and without restrictions. Simply download and start without re-registration or time limits.
Device support
With support for more than 10,000 hardware devices, you can connect almost any camera or ONVIF-compliant device that meets your requirements.
Driver packages
You have access to driver packages that are released every two months. This ensures you can always connect your video management platform to more and newer devices.
Integration of partner solutions and solutions from other manufacturers
Integrate other applications from MOBOTIX partners and third-party vendors. Expand your system with useful software, such as access control, people counting, or video analytics, to provide a comprehensive and easy-to-use system.
Upgrade at any time
You can upgrade your system to higher capacity, more features, or additional locations at any time.  Simply upgrade your license by moving to a more extensive MOBOTIX HUB level.
Extension
With MOBOTIX HUB L1, you can integrate up to 8 devices or applications from MOBOTIX or third-party providers. If you require additional devices, you can upgrade to another MOBOTIX HUB level at any time.
Targeted search
Find motion recordings or motion in selected areas for quick and effective search results.
Export videos and pictures
Export videos as still images, video files, and in native database format to ensure they meet the recipient's requirements.
Local languages
The user interface is available in 30 different languages. This makes the application convenient to use. 
Password protection
Make sure that data or evidence does not fall into the wrong hands. Protect video files effectively with a password and restrict access to authorized users.
HTTPS protocol
MOBOTIX HUB supports HTTPS communication with a secure hypertext transmission protocol between the recording servers and the connected devices, so that the data can be transmitted without interception.
Secure encryption
Data (video, audio and metadata) retrieved from the server by connected components is secured using certificate-based encryption.