Overview across multiple sites
MOBOTIX HUB L 3 is designed for medium-sized and multi-site companies. It supports an unlimited number of cameras, devices, and servers. Thanks to multi-layer site maps and comprehensive alarm management functions, the user has a complete overview of the entire installation. MOBOTIX HUB L3 is ideally suited to schools, retail sites, hospitals, or production facilities.
Central management and setup of all system components. Installation of multiple recording servers at an unlimited number of sites or in one location. Central access interfaces to live and recorded video from all connected locations.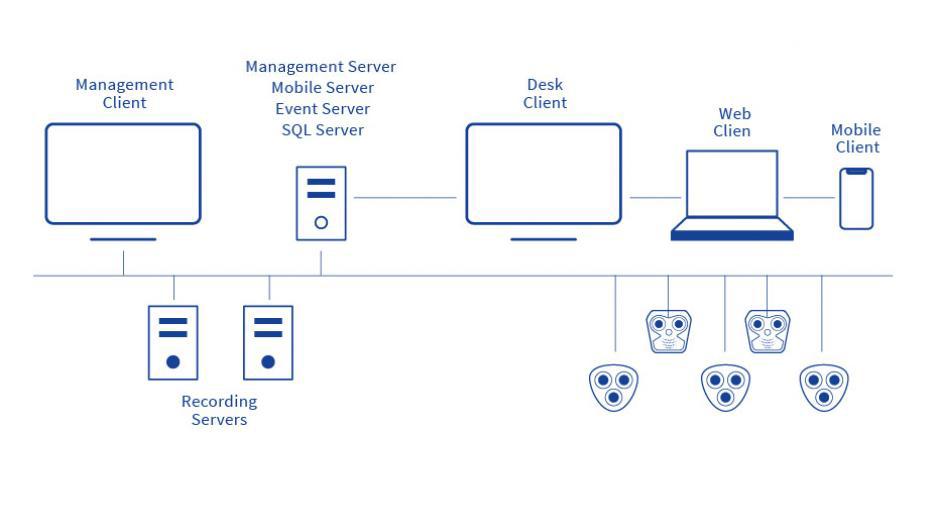 RELIABLE
Optimized recording processes to reliably increase the overall performance of your hardware CUSTOMIZABLE
Your system is flexible. A large number of tested solutions from partners and third-party vendors are already securely integrated or are available as extensions SCALABLE 
With MOBOTIX L3, you can scale your system to any size, up to systems with hundreds of cameras across multiple sites
EASY TO USE 
Maintain an overview of the entire installation, from anywhere, at any time, to respond to incidents quickly SECURE
Cybersecurity included: Guard against internal and external security threats
Key Functions of the Application — At a Glance
Hardware acceleration
Hardware-accelerated motion detection increases system performance and reduces overall system costs.
Two-way audio
Communicate with people at entrances and gates thanks to two-way audio support.
Recording rate minimum 3.1 Gbit/s
The high-performance recording rate provides a reliable and extremely fast system. 
Push notifications
Push notifications mean that your system automatically notifies you when action is required.
HUB SDK
The open platform architecture and the MOBOTIX HUB software development kit (HUB SDK) enable powerful integration with virtually unlimited functionality.
Metadata
Link your videos to metadata such as GPS coordinates, heat maps, motion data, and face detection.
Automated processes
A rule engine automates a variety of security features. The integrated software executes rules according to an algorithm. It combines a set of facts entered into the system with its own set of rules to trigger one or more actions. This increases operational efficiency by eliminating manual intervention.
System extensions (plug-ins)
Use verified applications, hardware, and services that are compatible with the MOBOTIX HUB. Thanks to the open platform architecture of MOBOTIX HUB, application providers and software developers can constantly introduce new integrations and extensions into the MOBOTIX HUB universe. This enables the continuous, cost-effective expansion of the system's potential on a modular basis. 
H.265
Use the latest H.265 video compression technology to reduce your video storage costs.
Unlimited extension options
The system supports an unlimited number of users, cameras and servers, even across multiple servers and locations.
Upgrade
Through a simple license exchange, you can upgrade your current level to one of the more comprehensive MOBOTIX HUB solutions and open up further options.
Multi-layer maps
Although simple and intuitive to use, multi-layered cards give you a complete overview of your installation, including live video broadcasts and the display of exact camera positions.
Alarm manager
The integrated alarm manager gives you an overview of safety and system alarms at all times.  
Bookmarks
Bookmark particularly interesting video sequences while watching live video or during playback.
Centralized search
The central search helps you find what you are looking for quickly and easily in a single place.
Central management
No matter how large your system, you can manage everything effectively and centrally.
Edge storage
Edge storage offers you a flexible and bandwidth-saving solution with recording redundancy in the event of system failures or maintenance downtime. You gain an additional level of redundancy when using intelligent MOBOTIX IoT cameras.
User access
Control the access permissions of each user if multiple users need to access the system at the same time
Duplicate authentication
Take advantage of an additional security level by granting access to users only after a second user confirms the double-authentication login.
Encryption
Certificate-based encryption protects your data (video, audio, and metadata) during communication between the recording server and connected components.
You will find all functions in the overview, with further details in the specification flyer: