Reliable and comprehensive 24/7 solution for critical areas
MOBOTIX HUB L5 is the video management platform for large and extremely security-oriented applications. It ensures end-to-end protection of video integrity with maximum hardware performance. In addition to the central management of all servers, cameras, and users across multiple locations, L5 includes control of a professional video wall to provide the greatest possible overview. With its failsafe server, MOBOTIX HUB L5 is designed for all companies and facilities that require continuous 24/7 access to live video recordings without interruption, such as airports and casinos.
High-availability system
Centrally manage and set up all system components from one point. Failover servers that provide backup for recording and event servers can be combined to provide high availability. Integrated video wall included for optimum situation detection.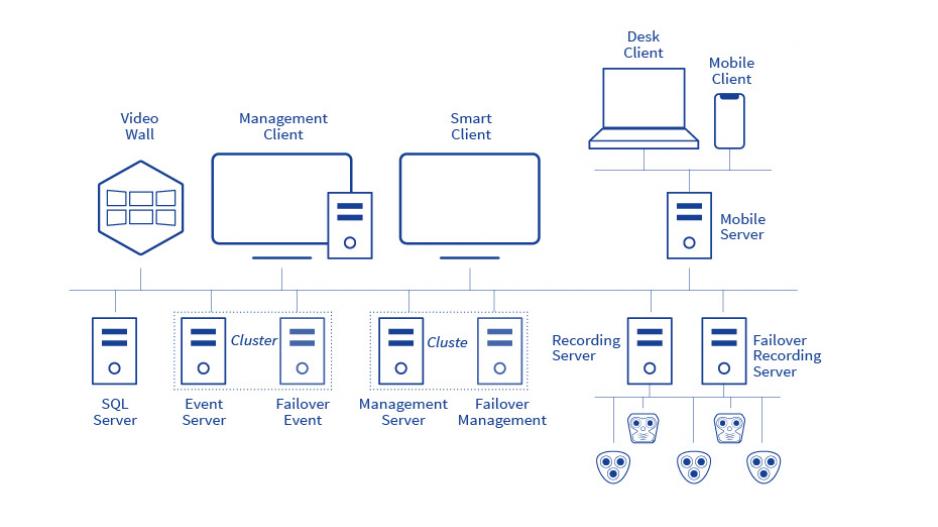 RELIABLE
Round-the-clock peace of mind with support for edge storage and failover servers to ensure continuous and uninterrupted video access. CUSTOMIZABLE
Your system is extremely flexible. Numerous tested solutions are already securely integrated. Extensions are possible at any time via the platform SDK architecture. SCALABLE 
MOBOTIX L5 supports an unlimited number of servers, cameras, and users. Manage your system centrally and effectively as it grows.
EASY TO USE 
The centralized search platform, multi-layer maps, and video wall support make it easy to investigate incidents efficiently. SECURE
With built-in security and data protection tools, you can increase the protection of your system against cyber security threats.
Key Functions of the Application — At a Glance
Hardware acceleration
Support for NVIDIA© and Intel© hardware for accelerated video decoding. Achieve maximum performance, reduced CPU load, and lower system costs.
Edge storage and failover servers
Uninterrupted access even in the event of system failures and maintenance downtime thanks to edge storage recordings and failover servers
Push notifications
With push notifications, the system notifies you when something requires your attention.
HUB SDK
The open platform architecture and the MOBOTIX HUB software development kit (HUB SDK) enable powerful integration with virtually unlimited functionality.
Metadata
Link your videos to metadata such as GPS coordinates, heat maps, motion data, and face detection.
System extensions (plug-ins)
Use verified applications, hardware, and services that are compatible with the MOBOTIX HUB. Thanks to the open platform architecture of MOBOTIX HUB, application providers and software developers can constantly introduce new integrations and extensions into the MOBOTIX HUB universe. This enables the continuous, cost-effective expansion of the system's potential on a modular basis. 
H.265
Use the latest H.265 video compression technology to reduce your video storage costs.
Unlimited possibilities
Support for an unlimited number of servers, cameras, and users ensures maximum scalability and flexibility.
Open architecture
Connect an unlimited number of MOBOTIX HUB L5 and MOBOTIX HUB L4 sites in a parent-child hierarchy for unlimited scalability.
Central management
No matter how large your system, you can manage everything efficiently and centrally. With MOBOTIX HUB Interconnect, you can also distribute it cost-effectively across multiple locations.
MOBOTIX HUB video wall
Increase your attention and respond more efficiently by using the clear and versatile video wall.
Multi-layer maps
Although simple and intuitive to use, multi-layered cards give you a complete overview of your installation, including live video broadcasts and the display of exact camera positions.
Alarm manager
The integrated alarm manager gives you an overview of safety and system alarms at all times.  
Bookmarks
Bookmark particularly interesting video sequences while watching live video or during playback.
Centralized search
Search for videos, movement, alarms, events, and bookmarks in one place and save your searches for quick future reference
Automatic processes
A rule engine automates a variety of security features. The integrated software executes rules according to an algorithm. It combines a set of facts entered into the system with its own set of rules to trigger one or more actions. This increases operational efficiency by eliminating manual intervention.
Audio
Use one-way or two-way audio support for videos in the desktop, web, and mobile clients. 
User access management
Monitor user access rights and manage multi-user installations securely and effectively.
Duplicate authentication
Take advantage of an additional security level by granting access to users only after a second user confirms the double-authentication login.
Secure export
Additional encryption, digital signatures, and re-export protection to ensure that the exported materials are 100% authentic.
HTTPS
Communication between recording servers and the connected cameras and security devices is encrypted in both directions via HTTPS.
You will find all functions in the overview, with further details in the specification flyer: