Langmeil/Essen, Germany, 25 September 2018. MOBOTIX exhibited in Essen, Germany at the 2018 Security show with their officially certified solutions for company security and their innovative "Made in Germany" hardware and software products.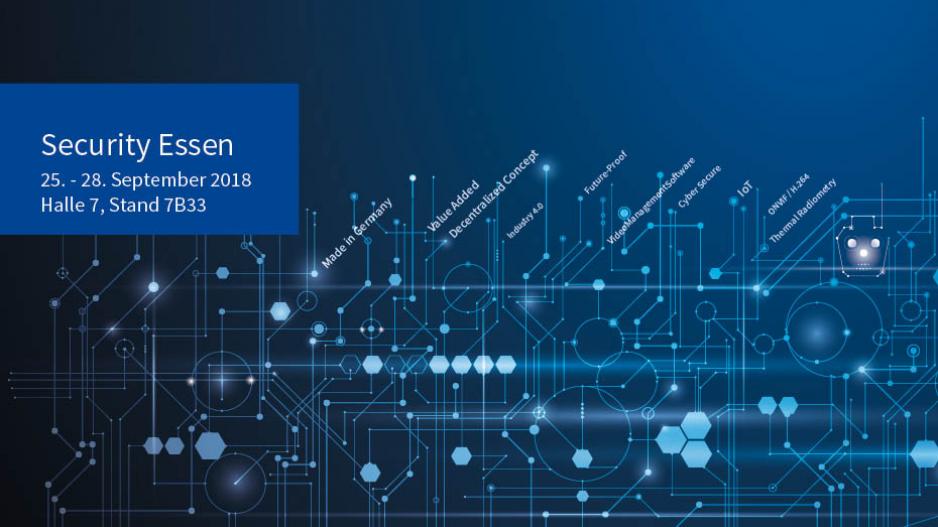 Certified Security Against Cyber Attacks
In addition to the existing technologies and the innovations that MOBOTIX introduced at Security in Essen, cyber security was one of the most important topics at the trade fair. MOBOTIX has developed the Cactus Concept for an end-to-end video system that is reliable and fully protected from hacker attacks. The effectiveness of the system has now also been verified by a "Certificate: Penetration Test," which is carried out by experts from SySS GmbH – the German market leader in the field of penetration tests. During testing, MOBOTIX cameras successfully withstood extensive cyber attacks.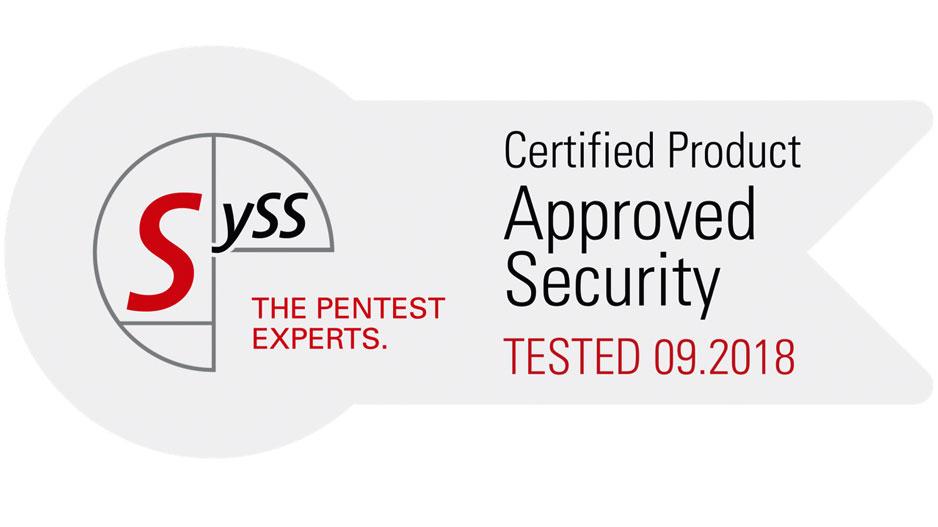 New MxManagementCenter Version 2.0
With the latest version of MOBOTIX' own VMS solution, it is now possible to combine into a unique, compatible hybrid solution not only the intelligent decentralized MOBOTIX IoT cameras but also the non-decentralized MOBOTIX MOVE cameras and third-party ONVIF S-cameras plus the new MOBOTIX NAS devices. MxMC 2.0 also reduces the time needed to configure the entire video system since now a large part of the all settings can be adapted for up to 80 IoT cameras simultaneously and within seconds. The basic version of MxMC 2.0 with extended standard features is available free of charge. The additional features for the integration of ONVIF S cameras and access to advanced levels of service and support can be added any time within an attractive licensing model. The new release, MxMC 2.0, with its new look is available for download at the MOBOTIX website from November 2018.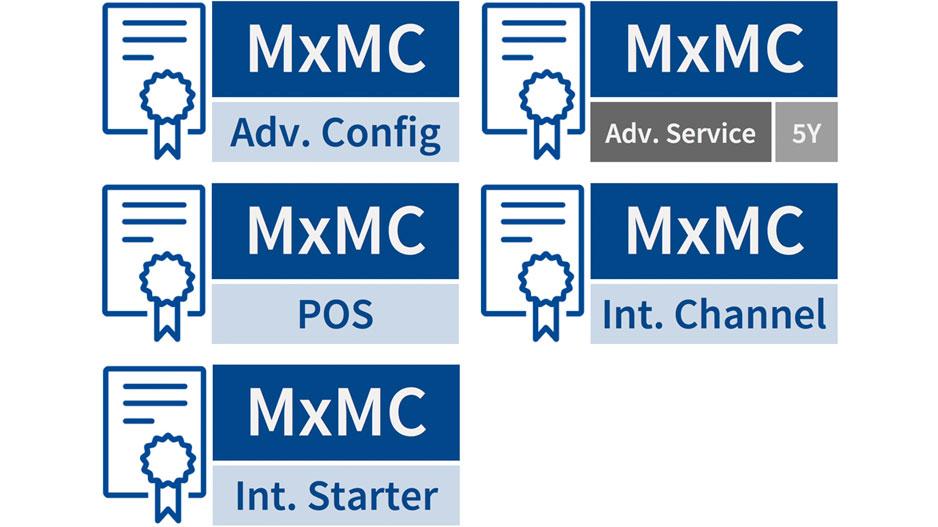 MOBOTIX-Own Networked Attached Storage (NAS) Solutions
MOBOTIX are expanding their product range by adding three high-quality NAS devices with variety of capacities (from 24 to 48 TB) that integrate perfectly with MxManagementCenter 2.0. An exclusive feature of the NAS devices from MOBOTIX is that they are pre-installed with special MxMC interface software, which facilitates centralized access to all camera recordings via an MxMC client. This applies to the decentralized MOBOTIX IoT cameras as well as to the ONVIF-S cameras in the MOBOTIX MOVE series and/or those supplied by third parties. Users of decentralized MOBOTIX IoT cameras also enjoy additional security benefits. For example, with a securely encrypted MOBOTIX Buffered Archive storage system for a MOBOTIX IoT camera, NAS can be configured as the primary storage destination and the camera's internal SD card can be added as a secondary (backup) storage. If the network connection or NAS fails, the camera's SD card will take over the task of storing the data, without any data loss, and will transfer all data back onto the NAS once it is available again. The new MOBOTIX NAS devices will be available from November 2018.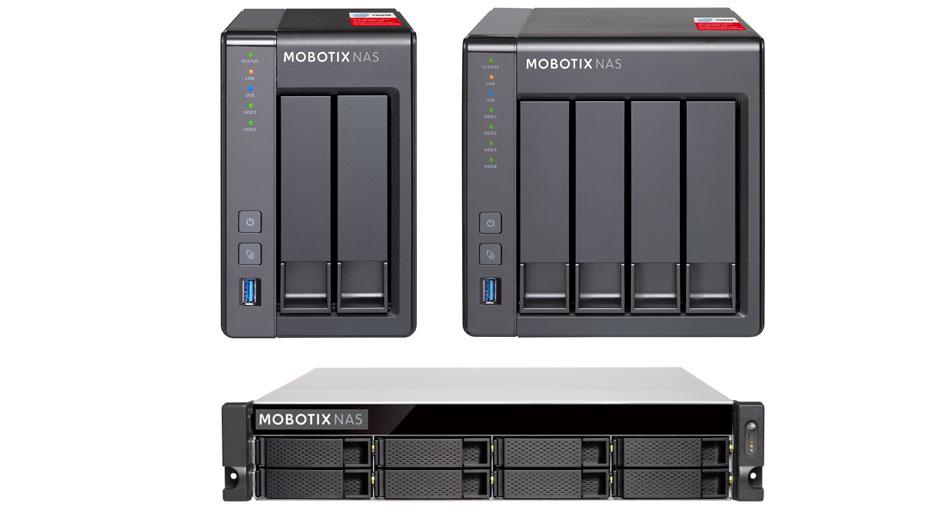 New Firmware for All Mx6 Cameras
With the system release 5.2.0.x for all MOBOTIX Mx6 cameras in the A and B series x16/x26 new, integrated functions can be used. One of the user benefits is the improved system performance. This is especially evident through faster computing processes and more stabilized, higher frame rates during high computing loads. After a firmware update, all MOBOTIX Mx6 camera models are ONVIF S-compliant (with and without microphone and/or speaker) and provide support for SNMP, which forms the basis for external IT monitoring solutions. The firmware update also brings new functions for thermographic cameras. The new firmware is available free of charge as a download from the MOBOTIX website starting November 2018.
New Platform for T26 Door Station
The new T26 based on the Mx6 platform completes the MOBOTIX product range on intelligent IoT systems. The main advantage of switching to Mx6 dual core microprocessor technology is the increase in performance which benefits all image analysis functions that require high levels of processing power, such as MxAnalytics, thus enabling higher frame rates. The T26 camera platform also fulfills the requirements of ONVIF S, a global open standard for interfaces. It is now also possible to generate an H.264 stream in addition to the video codecs MxPEG and MJPEG. This gives MOBOTIX partners and customers greater flexibility in product selection when planning security solutions consisting of individual components. The T26B is available for sale as of 31 October.
In Focus: Partner Solutions
Alongside sector-specific solutions, such as thermal cameras for manufacturing or the new cash register system solution, which was developed in partnership with Vectron, MOBOTIX are also presenting a range of partner solutions. Technology partners Genetec, Konica Minolta, SEDI, Tectrade and Uniserve are represented at the booth alongside MOBOTIX integration partners like Encom, IBC, ITES, Nexcom, Peter Communication, Schirra IT and Valeo IT.
About MOBOTIX
All over the world sites are protected by using MOBOTIX IP video technology. It delivers absolute reliability even in the most challenging conditions. From Oil Rigs in the North Sea, to World Heritage Sites in remote deserts, whether it is helping scientists at an Arctic research centre or greeting climbers at the top of Mount Everest; MOBOTIX equipment is designed for durability to provide the best overall return on investment. An extended operating lifetime is guaranteed and further enhanced by continual software upgrades.
Contact:
MOBOTIX AG, Kaiserstrasse, 67722 Langmeil, Tel: +49 6302 9816-0, www.mobotix.com
Public Relations: Svenja Meisenheimer & Simone Gerrits, publicrelations@mobotix.com