The mobile remote station for MOBOTIX IP video door stations and IoT cameras. Now with a facelift design and push notifications for all door station and camera events. In the development of MxBell, in addition to the ease of use and clarity, the greatest emphasis was placed on maximum stability, especially with low connection quality.
MxBell shows the ringing message of a MOBOTIX IP video door station and live views of MOBOTIX cameras on your smartphone or tablet. Search the latest events on the door station / camera in Playback view. View up to four different livestreams from cameras in grid view. automatic camera search, live view, camera connection via SSL and display of connection status.
Our new MxBell version 2.1 is here:
The facelift of this version offers contemporary design and an improved user experience thanks to the overlay surface features.
Now also the alarms (events) of the integrated IoT cameras (with camera firmware as of 5.2.2.x) can trigger a push notification.
The Live, Playback and Grid views can now show the camera images as a full screen with one tap; another tap switches back to show the overlay controls.
The Dark Theme adds a fresh look to MxBell, while the background of the default theme has been changed to a brighter shade of white (see screenshots below for direct comparison).
Different pre-defined Ring Tones for ring and alarm notifications provide a great way to differentiate between these two audible notification types.
The new Visitors view collects the ring events of all door stations to provide an overview of the visitors that rang a doorbell.
Via the signal outputs of an Mx6 camera, the app function Open the door can also be realized even without any door station camera T2x.
Shows ringing messages from MOBOTIX IP video door stations (including push notification).
Shows alarms (event messages) from MOBOTIX IoT cameras (including push notification).
Live views from MOBOTIX IP cameras with gesture-controlled PTZ function.
Open the door from anywhere, hands-free talking.
Automatic camera search, live view and camera connection using SSL.
Displays the connection status.
Supports remote connections and mobile data.
iOS 11 and Android 5.0.0 (or higher).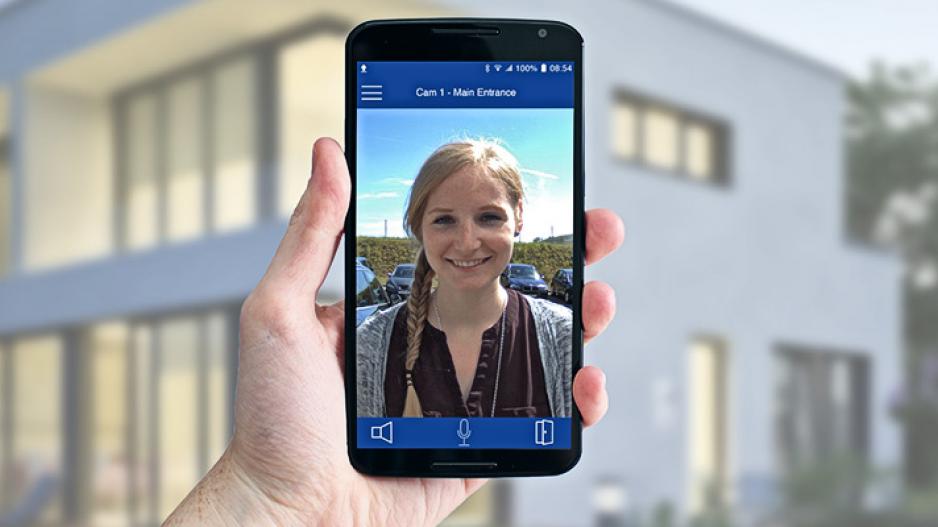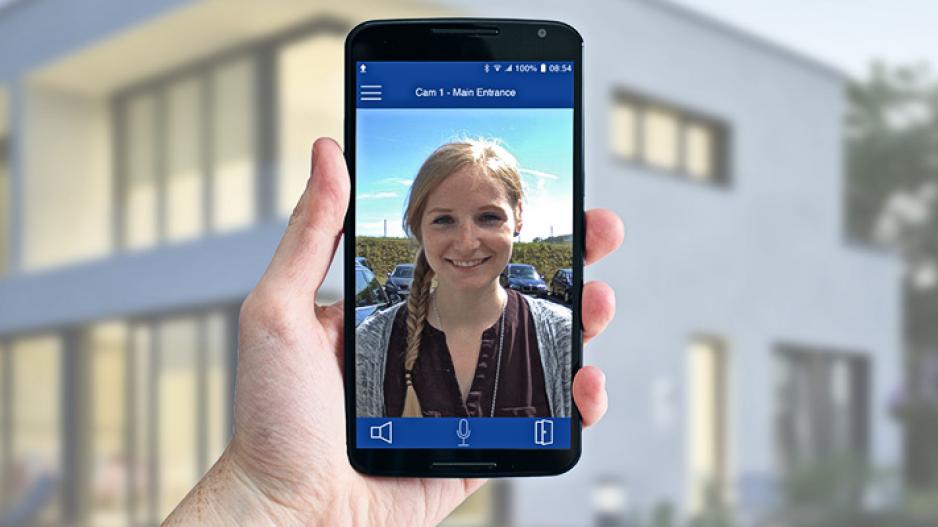 Mobile Companion
Maximum Information, Minimum Configuration
Image processing, analysis and recording take place directly in every Door Station and camera. The networked systems form a kind of data cloud that the App can access and then display the desired information in a user-friendly manner. Quick Setup, such as deciding which events to record, is carried out elsewhere (for example, MxDisplay+ or camera software).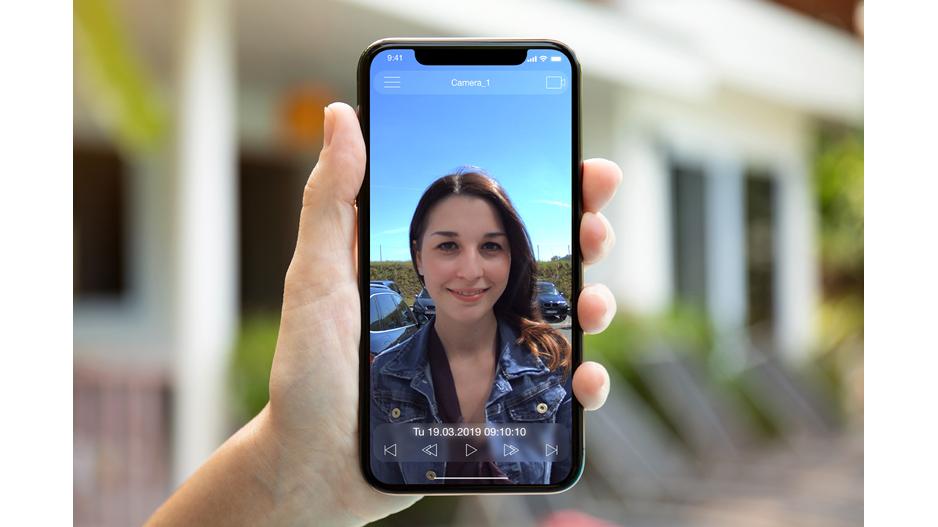 Remote Access
Worldwide Access To The Door Station And Cameras
The ability to communicate with someone at your door or turn on the light from far away is now a reality. You first need to configure your router for incoming data traffic and create a DNS account before you can access your Door Station and cameras using mobile data or other networks.
Wireless Connections
Bandwidth-Optimized Access
Very little bandwidth is required to transfer video and audio to the App, even when the image resolution is set very high. When wireless networks (WiFi, 3G/4G) are used on mobile devices, the connection quality is not always constant and the device may even drop the connection. As a result, it is not always possible to transmit all events, such as doorbell messages, on time. MOBOTIX therefore recommend always using a wired remote station such as MxDisplay+.