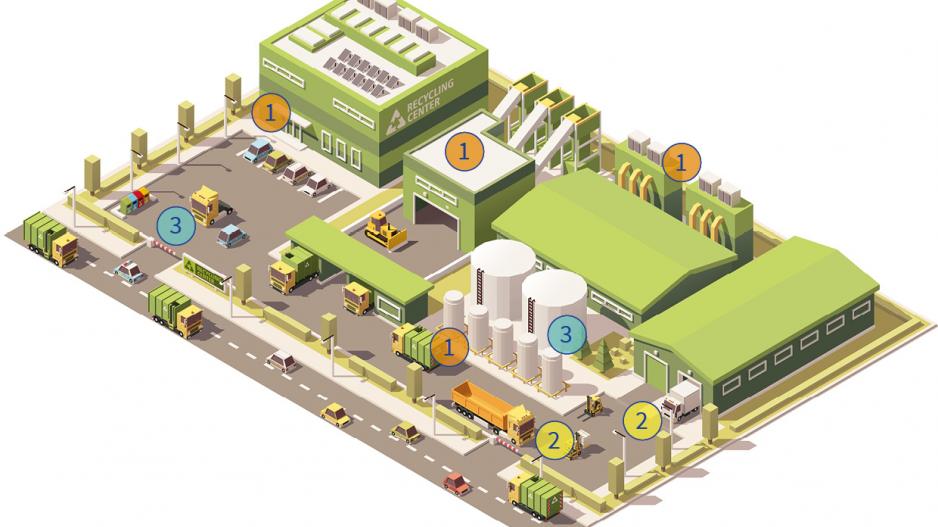 A Clean Solution for Optimal Monitoring and All-Round Protection
The various companies that operate in the waste management sector handle the prevention, recovery and disposal of waste. Large areas, different materials, bulk materials, hazardous materials and heavy machinery make working environments challenging and complex. Using MOBOTIX video technology, you can keep on top of the situation!
1 | Comprehensive Fire Protection
It is more difficult to provide fire protection for large exterior areas populated with containers and bulk materials, and the same is true for halls with high ceilings. MOBOTIX's sophisticated video technology detects fire sources remotely by detecting critical temperature thresholds — often before a fire occurs. This means that the spread of fire can be effectively fought or prevented. Where other fire alarm systems such as aspirating smoke detectors or linear heat detectors reach their limits, MOBOTIX demonstrates its strengths.
2 | Perimeter Protection and Occupational Health and Safety
Due to the large quantity of stored materials, recycling companies are often subject to break-ins. MOBOTIX video systems for perimeter protection help detect intruders day and night — whatever the weather. MOBOTIX can also help with occupational health and safety. For example, the cameras are able to recognize workwear such as helmets and vests, and automatically trigger an appropriate notification when people are detected who are not wearing these items.
3 | Process Support
MOBOTIX video technology can help improve processes and make operations more economical. For example, intelligent video analysis can be used to detect how full containers and pits for bulk materials are. This helps to reduce the workload for personnel and can provide valuable information that can be used to optimize the site (e.g. if individual areas are not being fully utilized). Access control and vehicle documentation can also be simplified and optimized using automatic character recognition.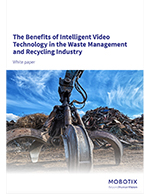 White Paper: The Benefits of Intelligent Video Technology in the Waste Management and Recycling Industry
MOBOTIX Benefits
Increased Security — Increased Profitability
✓ Detect fire at an early stage, before flames occur
✓ Save money and increase revenue (process control)
✓ Safe operation (protection, occupational health and safety, and documentation)
✓ Can be integrated into existing systems (software for process control)
✓ 24/7 — reliable monitoring (redundant and maintenance-free)
✓ Modular and simple to scale
Effective fire protection with MOBOTIX thermal technology
Fire detection in a waste disposal plant
Monitoring unloading processes
Monitoring bulk materials
Detecting the smallest fire sources
Reliable motion detection day and night
MOBOTIX thermal technology offers the best solutions for fire protection, and especially for perimeter protection. Due to thermal VGA technology, all of the details in the observation area can be detected — even at night, and in poor visibility caused by fog and dust. This means that potential intruders can be identified at long distances.
Thermal VGA Long Distance
Process optimization due to color recognition
Intelligent video technology can actively support and improve processes. For example, color coding for containers or bulk material pits can be used to automatically determine whether these unloading points are full and need to be emptied. This saves time and effort, especially for large sites. Video technology can also be used to identify storage points that are often left too empty and are not being used effectively. This enables you to make adjustments to containers and to find alternative uses for the space. These benefits all add up to ensure your facility is operating effectively. Safety is also important: Technology can also be used to detect the use of protective clothing.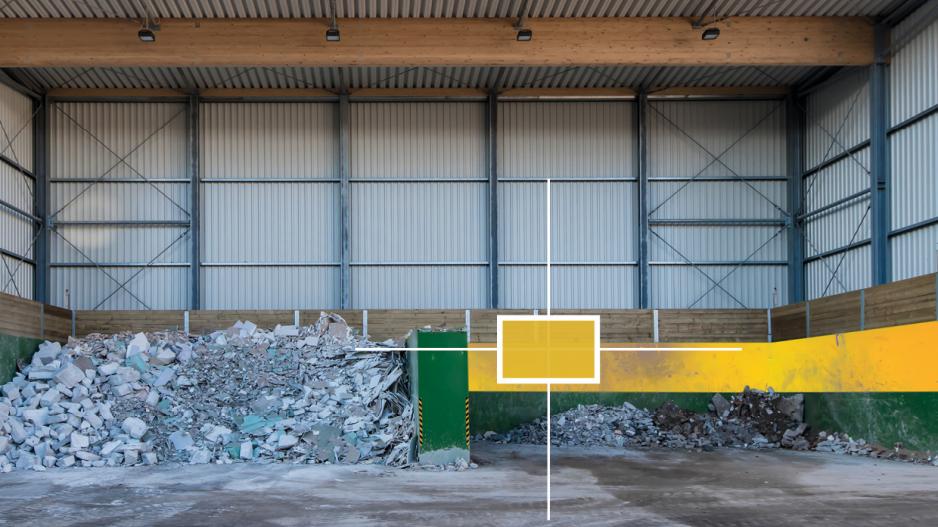 Character recognition to optimize processes and documentation
Video technology helps to create effective access control and documentation processes. Using intelligent analysis software with character recognition, vehicles, containers, and the brands and colors of vehicles can all be recognized. For example, this enables access control based on authorization lists. The collected metadata allows processes to be searched for or analyzed in a targeted manner.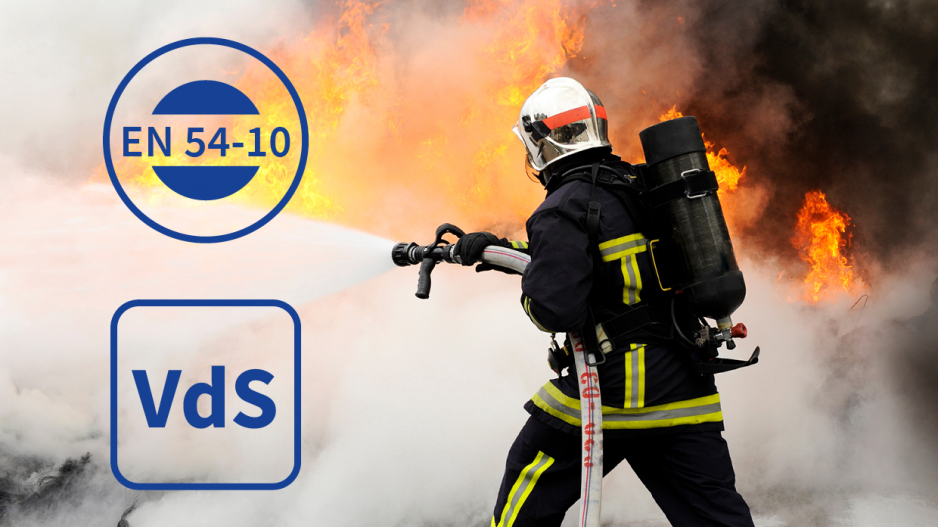 Certified MOBOTIX Early Fire Detection
Some MOBOTIX thermal cameras are officially certified as premium fire protection solutions.- e.g., by the European standard EN 54-10 (Declaration of Performance) for flame detectors or by Europe's largest institute for corporate security,VdS Schadenverhütung GmbH. The specified, intensive tests proved the suitability of the MOBOTIX systems.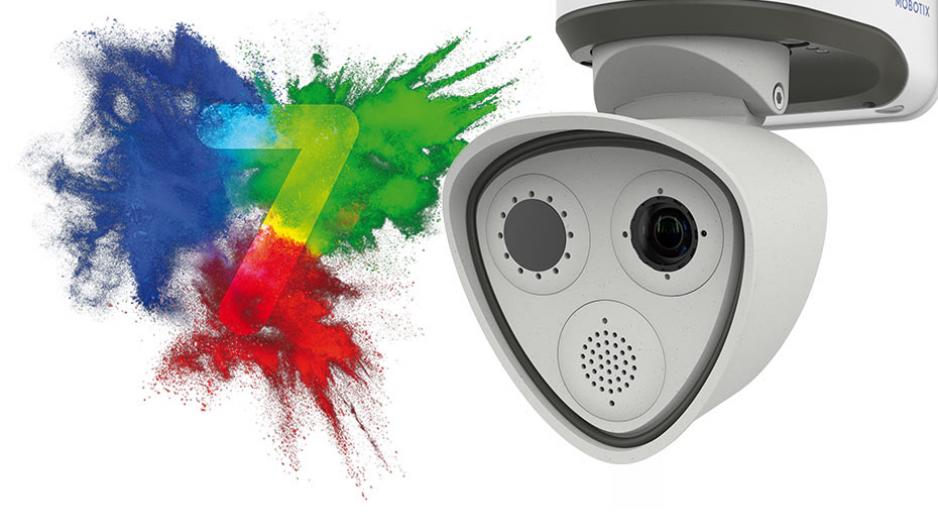 Sophisticated Modularity for Greater Flexibility
When you purchase a MOBOTIX video system, the choice of application is unlimited. The modular hardware components used in the cameras mean they can constantly be adapted to new requirements. Plus, you can change apps or add more traffic features without having to replace the camera. Not only is this more sustainable, it also saves money!