The Mobile Client application lets you play and export video footage directly from your mobile device. You can listen to audio recordings, talk through the camera using the push-to-talk button, respond to access control requests, and receive push notifications about events and triggered alarms. The MOBOTIX HUB Mobile Client is available in numerous languages and supports all mobile network generations.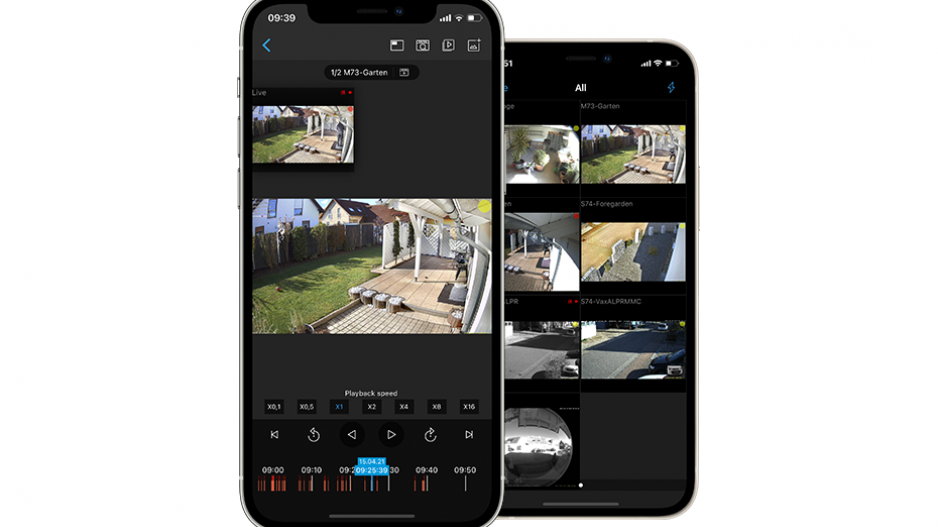 For a complete overview
Access from anywhere
View and play back events and, once integrated with MOBOTIX HUB Access Control, manage access requests while on the move using a smartphone or tablet.
Push notifications
Push notifications let you receive alerts on your mobile device when alarms are triggered on your premises. (Requires integration with the MOBOTIX HUB Access Control add-on)
Secure connection
Cybersecurity is important to us. That's why all communication between the MOBOTIX HUB mobile app and the server is encrypted.
Share video with ease
Stay flexible by exporting and watching material on the go.
Overview of different sites
In multi-site installations, users can access the cameras of all sub-sites
Make use of audio
Listen to audio recorded by the camera and talk directly through speakers connected to the camera using your mobile device.
For a quick response
Real-time response
"Push" live images with audio from the camera of a mobile device directly to the HUB system and document incidents in real time.
GPS location for first responders
You can document the where the "pushed" video was recorded by linking the live footage to a GPS location.
Reach the right people
When an alarm is triggered, push notifications are sent to designated users so that the situation can be responded to immediately.
Remote response
Even if you are not on-site, you can control exits, grant or deny access, and turn lights on and off.
Download MOBOTIX HUB Mobile Client for free*
MOBOTIX HUB Mobile consists of two components: an app for your smartphone or tablet and a server component included in the MOBOTIX HUB installer. MOBOTIX HUB Mobile supports Android and iOS devices.
*MOBOTIX HUB will be available as of May 26th