Simple video surveillance for smaller businesses
MOBOTIX HUB L2 is simple video management software for small businesses with a single location and low demand for live video surveillance. The solution supports up to 48 devices. Existing processes and features such as access control or people counting can also be integrated. It is ideally suited to retail stores, car parks, or office buildings with moderate security requirements.
Straightforward design, with everything is connected to the same network and all server components and MOBOTIX HUB clients running on the same server/PC.
The MOBOTIX HUB Levels L2 to L5 are available on request for 30 days free of charge and without any restrictions. Take advantage of this opportunity to test the functions of the video management platform extensively and without obligation.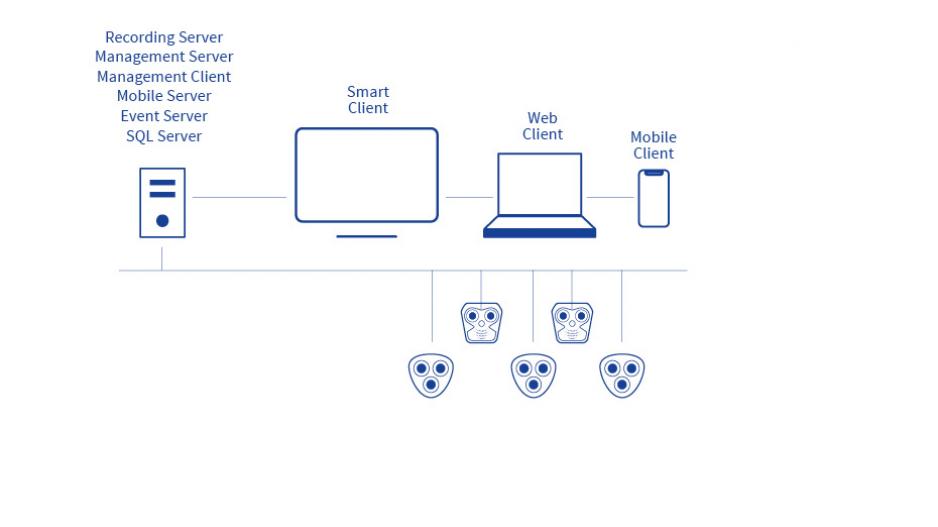 RELIABLE
Round-the-clock security, with the option of notifications any time something requires your attention CUSTOMIZABLE
Your system is extremely flexible. Numerous tested solutions are already securely integrated. Extensions are possible at any time via the platform SDK architecture SCALABLE
With MOBOTIX HUB L2, you have a system that can grow with you if required
EASY TO USE
Rather than having to spend a long time trying to understand your video system, you can achieve your goals effectively thanks to its simple operation SECURE
Cybersecurity included: Guard against internal and external security threats
Key Functions of the Application — At a Glance
Push notifications
Push notifications mean that your system automatically notifies you when action is required.
MOBOTIX HUB clients
Access your system anytime, anywhere with the support of all three MOBOTIX HUB clients (mobile, web, and desktop).
High recording rate
The high-performance recording rate of up to 3.1 Gbit/s offers you a reliable system you can depend on.
Integration of solutions
Integrate advanced applications from MOBOTIX partners and third-party suppliers. Expand your system with useful software, such as access control, people counting, and video analytics.
MOBOTIX add-ons
Add further features to your video installation with one of our MOBOTIX HUB add-ons.
Secure encryption
Data (video, audio and metadata) that originates from the recording server and is retrieved from connected components is secured using certificate-based encryption.
Device-based license
The licensing model is simple, with a license and a price for each integrated device. Expand your system at any time and increase the number of device licenses straightforwardly as required. 
Upgrade at any time
You can upgrade your system to higher capacity, more features, or additional locations at any time. Simply switch your license to a more extensive MOBOTIX HUB level.
Multi-layer maps
Although simple and intuitive to use, multi-layered cards give you a complete overview of your installation. 
Customizable user interface
A customizable user interface ensures the best user experience. You can align the interface with the roles and responsibilities of the system users.
Central search
Advanced search tools that help you find what you are looking for quickly and easily save time and effort.
Automated processes
A rule engine automates a variety of security features. The integrated software executes rules according to an algorithm. It combines a set of facts entered into the system with its own set of rules to trigger one or more actions. This increases operational efficiency by eliminating manual intervention.
User access
Effectively control user access through the display client when multiple users are accessing in parallel.
Duplicate authentication
Take advantage of an additional security level by granting access to users only after a second user confirms the double-authentication login.
Password protection
To ensure that evidence does not fall into the wrong hands, you can password protect video files and restrict access to authorized users.
HTTPS
HTTPS communication between the recording server and the connected cameras and other security devices makes communication more secure. 
Metadata
Use metadata and make more of your system (e.g., analyses).
You will find all functions in the overview, with further details in the specification flyer: