Content provided by partner.
#EX-Kamera
#Zone 0, 1, 2, 21, 22
#ATEX Thermal Camera
#ExplosionProof
#Industrial Applications
#Localisation
# Industriekameras
#Explosionsgeschützte Kameras
#Lokalisierung
#Prometheus Personenschleuse
ATEX-cameras - EX-cameras
MOBOTIX Cameras for ATEX areas up to zone 0, as well as thermal cameras up to zone 1.
MOBOTIX Kameras für EX-Bereiche bis Zone 0, sowie Thermal-EX-Kameras bis Zone 1.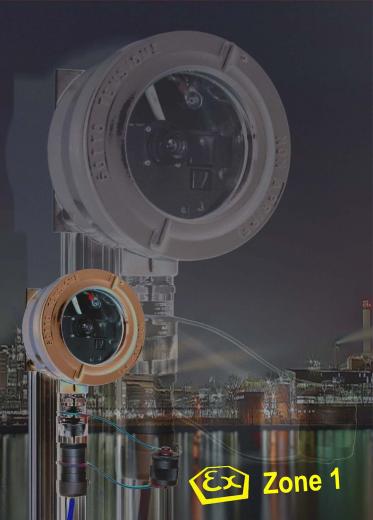 Key Features & Benefits
Risk prediction- Gefahrenfrüherkennung
Safe loading dock - Sichere Verladestation
Zone 0, 1 and 2 as well as 21 and 22 - Zone 0, 1 und 2 sowie 21 und 22
Industry 4.0 - Industrie 4.0
Industrial automation - Automatisierung
Optical process control device - Optisches PLT Feldgerät
Processdocumentation - Prozessdokumentation
ATEX cameras
Camera systems up to Zone 0. In usage for industrial processes such as inspection glasses, vessels, fire behavior of torches an much more. The risk prediction to enhance the operational safety in combination with localization systems are in our portfolio as well as process documentation systems.
EX-Kameras
Kameras bis Zone 0. Im Einsatz zur Prozessüberwachung, wie z. B. Schaugläsern, Reaktoren, Brandverhalten von Fackeln und vielem mehr. Die Früherkennung von Gefahren zur Erhöhung der Arbeitssicherheit in Kombination mit Ortungssystemen gehören ebenso wie Prozessdokumentationen in unser Leistungsspektrum.
Contact TecTradeSolution GmbH