Content provided by partner.
#TemperatureDetection
#MaskDetection
#ObjectDetection
#GunDetection
#SocialDistancing
#PeopleCouting
#AISolution
#Artificial Intelligence
#Thermal
Powerful AI Solutions for a proactive Security System
Scylla is the leading developer of computer vision based facial, behavior, and object recognition tools for security operators. At Scylla, our mission is to empower the private security industry with next-gen AI solutions. And with every new product in mind, we strive to make safety more accessible to those who could not afford it otherwise. As we aim to bring the best of AI security solutions to the market, we are delighted to work together with MOBOTIX as their camera readings are more coherent compared to alternatives on the market.
Scylla enhances the existing security infrastructure for:
* Object Detection (PTD) - detecting and identifying a wide variety of suspicious objects and firearms
* Anomaly Detection and Behavior Recognition (ADS) - detecting anomalous events from surveillance cameras including fighting, smoke and fire, shoplifting and vandalism
* Thermal Screening (BTD) - including on-the-go body temperature checks, face mask usage detection, occupancy monitoring, contact tracing and social distance violation monitoring
* Intrusion Detection and Perimeter Protection (IDS) - detecting humans and vehicles in restricted areas, reducing false alarms by up to 99.95%
* Drone Security (ASU)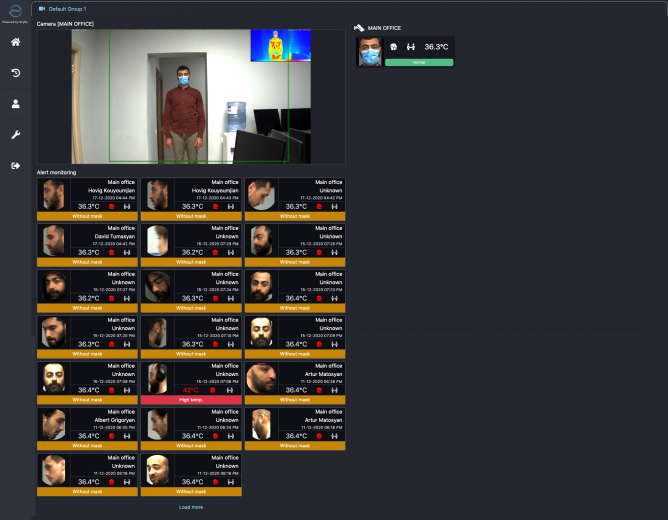 Key Features & Benefits
on-the-go thermal screening while maintaining accuracy +/-0.2°C without a human operator (BTD)
face mask usage detection (BTD)
social distancing monitoring & people counting functionality (BTD)
detects a wide range of suspicious objects and firearms, e.g. gun, rifle and knife (PTD)
contact tracing within existing CCTV network
automated calibration
centralized control and maintenance, no human operator required
proactive security system
Scylla Thermal Screening
Scylla Thermal Screening is a powerful AI solution used to run thermal scanning in high-traffic areas. What Scylla does with MOBOTIX cameras is that we are boosting the accuracy of camera readings with our technology. We enable on-the-go body temperature checks while maintaining accuracy +/- 0.2°C. There are three main approaches that we apply to make this possible: 1. Smart targeting | 2. Multiple detections per person | 3. Auto-calibration is another proprietary algorithm that dynamically derives the current average/norm of body temperatures and detects the values which are above it. On top of our body temperature detection functionality, we allow businesses to meet special requirements in challenging times the world is facing by enabling face mask usage detection, social distancing monitoring, contact tracing within the existing CCTV network and real-time people counting. The technology can be used in preliminary screenings in airports, borders, schools and universities, government locations, restaurants, and hospitals.
Scylla Object Detection
Scylla's Object Detection (PTD) accurately identifies and detects a wide range of suspicious objects and patterns that are potential threats, e.g. gun, knife, shotgun, mask, helmet, vehicle and humans. Transform your security infrastructure into a proactive security system searching for potential threats to increase stronger awareness of threats to your environment. Scylla runs on your on-premise security servers and with every MOBOTIX cameras. As Scylla observes your video stream, once a suspicious object is detected and identified an alert will be raised. Scylla's threat detection dashboard will open showing statistical metrics enhancing intelligence on the current threat. Scylla's proprietary smart decision-making algorithm "Charon" will notify the security personnel about the potential threat and will request a distribution of alerts via mobile and web to additional authorities.
Contact us for further information on Scylla Technologies Inc.